Bowling Green Municipal Utilities
BGMU upgrades from Microsoft Visio to OSPInsight to streamline fiber mapping and troubleshooting
Bowling Green Municipal Utilities (BGMU) has been in the fiber business since 2001. As demand for fiber services grew throughout the 2000s, the company realized it needed to upgrade its processes to keep up with subscriber demands and uptime expectations.
After 10 years of using Microsoft Visio, BGMU switched over to OSPInsight, a fiber optic network management platform designed for the modern age. With OSPInsight, Todd Crosby and his team have been able to stay on top of BGMU's fast-growing fiber infrastructure and provide exceptional services to customers across the region.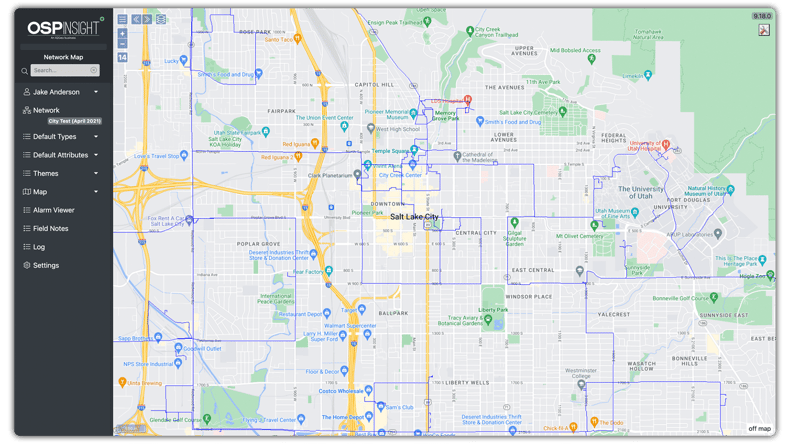 Efficient record-keeping
Before adopting OSPInsight, BGMU used Microsoft Visio to draw fiber maps by hand. For 10 years, technicians and operators relied on the application to document fiber installations and essential components.
With Visio, however, field operators had trouble staying on top of network updates. It was hard to know if Visio drawings accurately represented BGMU's fiber optic network at any given time.
"It was Visio drawings and hoping and praying we didn't cut live fibers out in the field!"
Around 2010, BGMU hired an employee who had previous experience using OSPInsight. That individual encouraged BGMU to consider OSPInsight, alongside other fiber management applications. With a true fiber network management application, BGMU could overcome many of the shortcomings of working with Visio.
After careful evaluation, the team settled on OSPInsight for several reasons. First, OSPInsight reduced the time and money BGMU spent on fiber operations. The overall decision-making process was much faster, as the team always had up-to-date field information.
Furthermore, OSPInsight enabled BGMU to retain ownership over its fiber data and continue using its own private servers. Todd Crosby and his team enjoyed having immediate access to all of the organization's fiber network data in one place.
Today, BGMU is in the process of transitioning to the web-based version of OSPInsight, which will make it even easier for technicians to access and record fiber data while they are out in the field.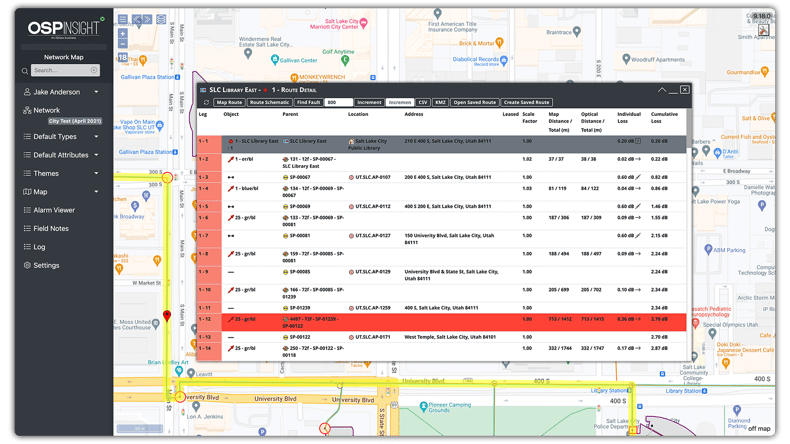 Rapid troubleshooting
Having effective troubleshooting capabilities is critical for any fiber network operator. Before OSPInsight, BGMU had a hard time efficiently addressing faults in the field, especially given the over 300 miles of cable the organization had to manage.
On top of that, BGMU's technicians were in and out of cans constantly, which made it hard to keep everything organized. Knowing which cables were spliced, how far certain routes traveled, and which fibers were open wasn't immediately obvious with Visio drawings. The group needed a better way to diagnose issues and repair downed circuits.
OSPInsight enhanced BGMU's troubleshooting capabilities significantly. With tools like the Route Detail report and Find Fault feature, technicians can pull any information they need to identify and solve network issues as they surface.
Todd especially loves OSPInsight's saved routes feature, which allows his team to label routes with specific circuit IDs. By combining saved routes in OSPInsight with BGMU's monitoring system, Solar Winds, operators can see which circuits are down and determine which subscribers are affected. Technicians can then plug OTDR trace results into OSPInsight and pinpoint where an issue has occurred.
In fact, BGMU recently dealt with a fiber cut that arose from a hunting mishap. Fortunately, with OSPInsight, finding and fixing the issue was painless! The platform saved Todd and his team hours of unnecessary labor.
Another related benefit of OSPInsight is that the platform makes building work orders far less cumbersome. BGMU users can pull up their current fiber maps, look up relevant network data, and adjust orders as needed. If network fixes require new components or cables, Todd can create that order directly in OSPInsight.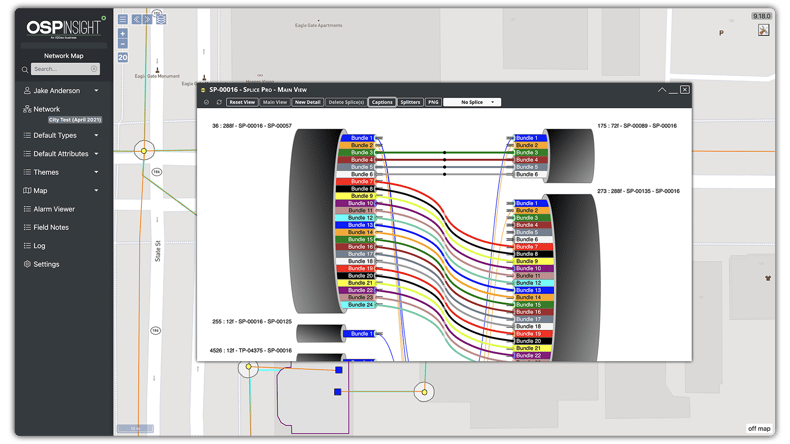 Excellent customer support
OSPInsight isn't just a sophisticated fiber network management platform. The solution also comes with live customer support to help fiber operators maximize the effectiveness of the application.
Whenever Todd has an issue, he can call OSPInsight's support team to get live help. Rather than submit a support ticket or email a generic address, he can speak directly to an expert on the phone, walk through a specific problem, and get the answers he needs. Time and time again, OSPInsight experts have come through for Todd when he needs them.
Looking ahead, Todd feels confident that BGMU will be able to transition smoothly from the desktop to the web version of OSPInsight. His team has everything it needs to continue managing and expanding BGMU's fiber footprint with excellence.
"The OSPInsight support team is fantastic...it's a hidden gem...an intangible value. I've never done something that [the support team] hasn't been able to help solve."