City of Bellingham, Washington
Utilizing OSPInsight to document network infrastructure, and reduce service downtime.
Clark Williams is the Superintendent of Transportation, Fleet and Facilities, in Bellingham, Washington. He manages the city's fiber network, which falls under the responsibility of the Transportation group.
Bellingham's network was initially built to handle the local SCADA system for water and sewage stations. Over time, fiber's role in the city evolved to support many other important public systems, including Bellingham's CCTVs, traffic signals, and private connectivity for 22 municipal buildings.
Because Bellingham's fiber infrastructure is critical for so many stakeholders, the city needed a sophisticated and reliable fiber management platform. Enter OSPInsight.


Documenting network infrastructure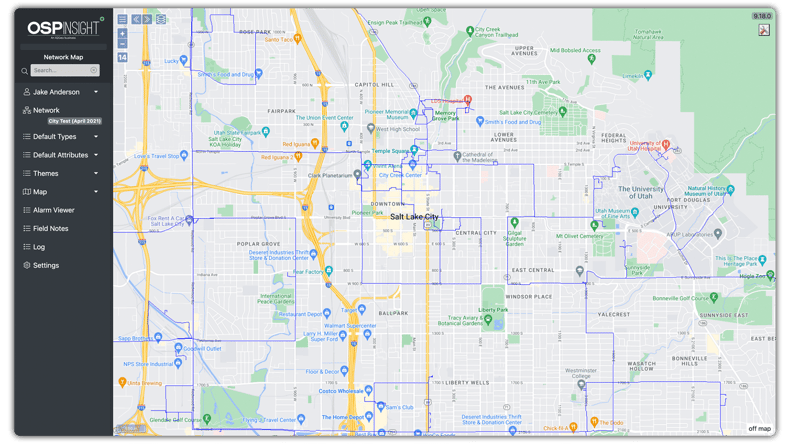 OSPInsight provides a visual representation of every important element in your fiber network infrastructure.
Bellingham's fiber network was built primarily on an ad hoc basis. The city installed its fiber infrastructure within street light conduits that were already in the ground. Consequently, information about specific fiber routes and circuits was hard to find.
"All we had were basically hand-drawn field maps of where the fiber went and what the splice details were."
On top of that, it was difficult to know which maps were accurate and up to date. The correct information only existed in the minds of the city's field technicians. If certain individuals were out or unavailable, Clark had no way of addressing issues related to individual fibers or subscribers. He needed a way to document Bellingham's fiber infrastructure so that his team had a single source of truth.
With OSPInsight, Clark has reduced risk related to Bellingham's fiber network management efforts. His team no longer has to rely on paper documents and physical maps to find critical network information. All of Bellingham's fiber data is now stored in one place. When technicians are out or retire, Clark can easily look up what he needs and address any issues that arise.
OSPInsight comes with a variety of reports to help operators, like Clark, on a daily basis. For example, the Route Detail report provides connectivity information all the way down to individual fiber strands. The Network Statistics dashboard enables users to track database objects over time and maintain an updated view of what is being used. With the Impact Report, Clark can test hypothetical scenarios to see which fiber routes are impacted if splice points are moved.
Now, Bellingham has a dependable and trustworthy system through which it can maintain all fiber network data going forward.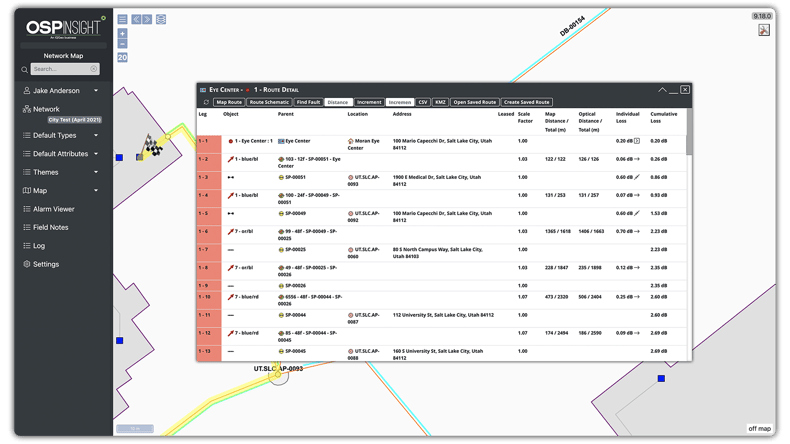 OSPInsight's Route Detail report shows important information about every individual fiber in your network.


Reducing service downtime
Because Bellingham's fiber is buried within the city's street light conduits, they are not well protected. Cables often sit just below concrete sidewalks, making them vulnerable to regular construction operations.
Clark shared a story about a recent incident in which a telephone company augered right through a conduit and cut a 96-strand cable. As a result, services were disrupted across the entire city. Whatcom County's fire paging system went down, as well as the CAD system in both dispatch centers for 911 calls.
Splicing the cable back together was extremely challenging, especially in the middle of the night. Prioritizing which specific splices to perform first was also difficult. Overall, services were down for four days. And this was only one of four major construction-related outages Bellingham had experienced recently.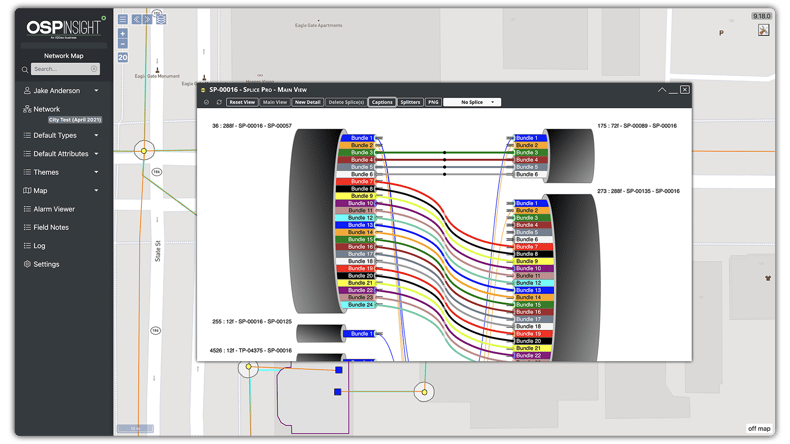 With the Splice Pro tool, technicians can plan splices in advance and see how all cables are connected at every juncture.
Clark had the foresight to implement a solution to reduce the negative impacts of these types of events. He encouraged the city to adopt OSPInsight, which has many tools to help troubleshoot network issues and optimize daily network management. Using the Route Schematic graphic, he can identify redundant or alternative paths and drastically reduce downtime for subscribers by rerouting connectivity. Clark's technicians can get services back to Bellingham's fiber users in minutes rather than days.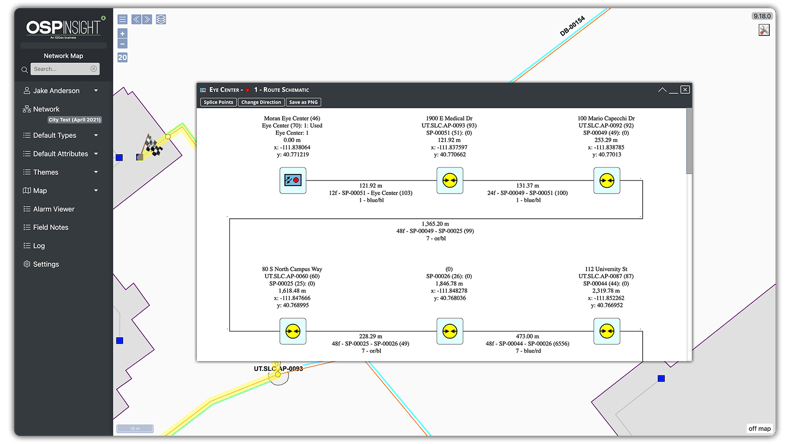 The Route Schematic tool enables users to see how connectivity flows throughout your entire network.
In Bellingham, many different organizations depend on the city's fiber network infrastructure every day. Clark recognized the importance of maintaining a healthy network and found a solution to help his team thrive. Now, the city's fiber operators can confidently manage Bellingham's entire fiber system and minimize downtime across all public service departments.