CTS Telecom
How CTS Telecom is leveraging OSPInsight to improve their operations
Scott Gerdeman is the Vice President of Operations at CTS Telecom, a Michigan-based internet service provider that has served clients for over 100 years.
Scott remembers what life was like before CTS Telecom had a fiber network management platform. Crucial activities, such as organizing network data, capacity planning, and troubleshooting, were much more challenging, if not impossible. With OSPInsight, Scott and his team are in a much better position to deliver the best possible services to their clients throughout Southwest Michigan.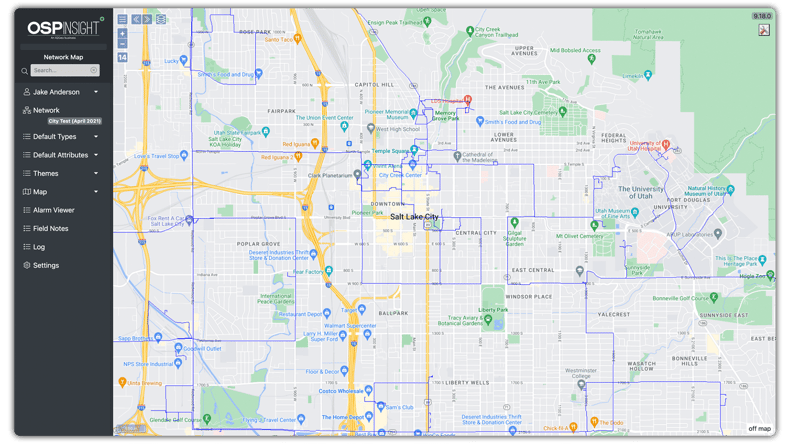 Smarter network management
One of the most important components of effective fiber network management is having access to accurate data. Those who don't have a comprehensive understanding of where their cables are and who they serve can't provide the level of service that clients expect in today's fast-moving digital age.
Before OSPInsight, CTS Telecom lacked the tools and resources to track fiber networks as they evolved. Field engineers didn't have basic information, such as which fibers were in which cables and who those fibers served. They had little splicing intel, which made it difficult to install new routes or edit existing ones.
CTS Telecom did have a basic mapping program. However, the company was unable to edit its maps to reflect the current state of existing fiber networks. Technicians also couldn't tell if cables were buried or underground unless they went on-site.
In summary, CTS Telecom had some information about its fiber networks. But, that information was not very useful.
Today, Scott can manage CTS Telecom's networks much more effectively thanks to the OSPInsight software platform. With OSPInsight, storing, managing, and updating network data is easy. As a result, activities that took a week now only take 30 minutes.
CTS Telecom can prepare far ahead for new developments and track all cable routes from beginning to end. Tools like OSPInsight's Taper and Capacity Reports have changed how CTS Telecom interfaces with suppliers and vendors. Scott has all of the data that he needs, down to the individual fiber, to make informed, educated decisions about network developments.
"The way you can cut a cable and run a Taper Report changed our whole business. We knew what we had. We knew where it was going. We knew what we needed."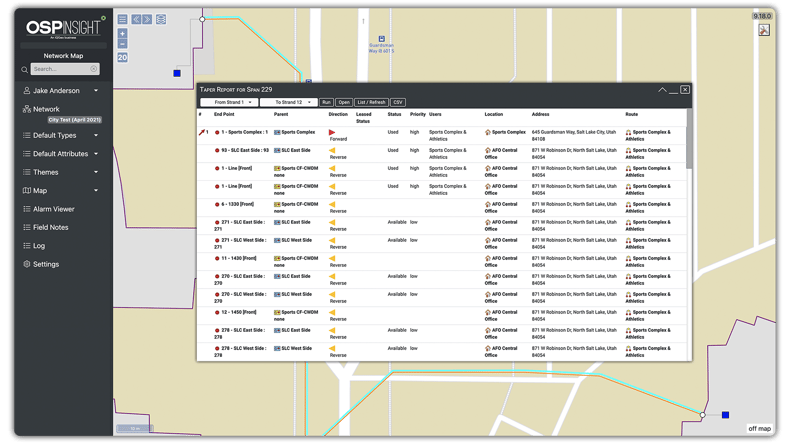 The Taper Report provides a comprehensive view of all fibers, connections, and end users within the network.
Scott has much better context around cable utilization, which means he can quickly evaluate new growth opportunities. Reporting is also less burdensome as Scott and his team know precisely how much cable they use across all of their networks. He can easily generate reports for others and confidently provide government entities with the necessary documentation for taxation and auditing purposes.
Overall, OSPInsight has enabled CTS Telecom to be a much smarter and more capable fiber network manager.
In-house control
Before OSPInsight, Scott relied heavily on the help of external service providers to stay on top of CTS Telecom's networks. For example, all of the company's splice information sat with the outsourced partners who performed the splices. Scott had to pay contractors for splicing because they maintained control over CTS Telecom's records.
Today, CTS Telecom owns its splicing records, which means Scott no longer has to pay contractors for this work. Technicians can look up splices in OSPInsight before going out into the field. They can even plan splices in advance with the Splice Pro tool to see how clients would be impacted under different splicing scenarios.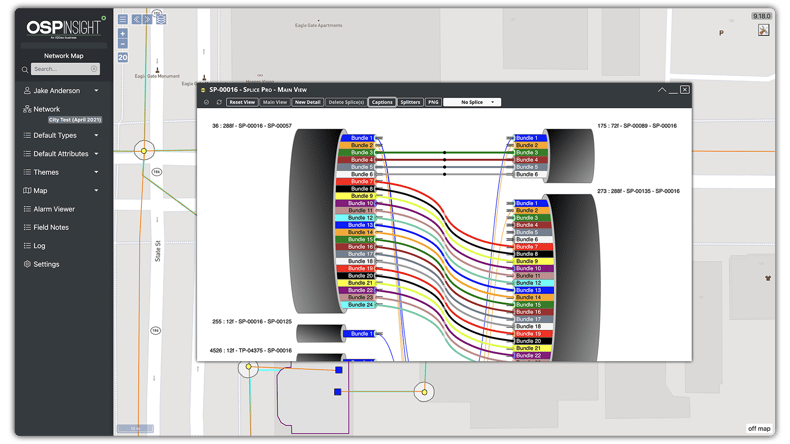 The Splice Pro tool enables users to plan splices and see how they affect connectivity across the network
On top of that, more internal teammates can now assign cables independently without having to request support from outside engineers. In situations when CTS Telecom still works with outside help, the company can supply engineers with the information they need to optimize route designs and repair work.
Most importantly, CTS Telecom can see every cable and fiber between any two points or splice cases. Internal teammates are empowered to make sound decisions based on the most recent network intelligence available. Operators can also communicate more transparently with CTS Telecom's customers as they know exactly who will be impacted by network maintenance.
"We are able to communicate with our clients better even though they don't have anything to do with the map. Because we know where our stuff is and what it connects to, we can do a better job serving the client."
Proactive Troubleshooting
Before using OSPInsight, certain aspects of fiber network management were a black box. In many cases, Scott didn't know what he didn't know, which is a scary position for any operator.
OSPInsight integrates seamlessly with leading GIS platforms, enabling users to layer network data on top of real-world landscapes. As a result, they can create visual representations of their networks and see how all elements fit together.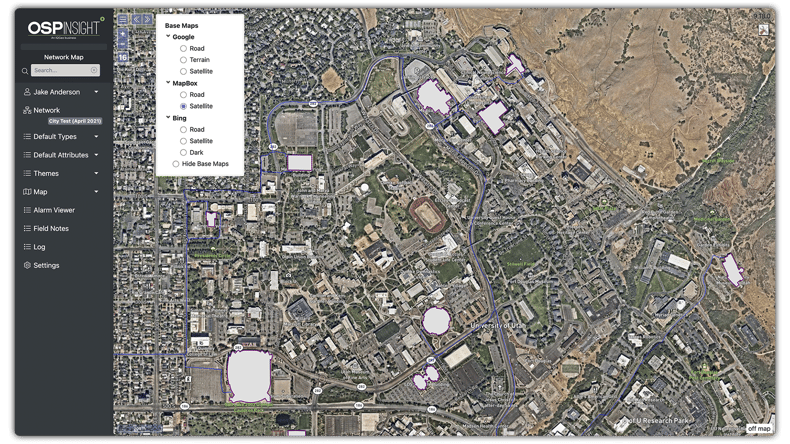 OSPInsight offers GIS integration so that users can layer their network data on top of real environments
By having a comprehensive perspective, Scott can now discover vulnerabilities across his networks that would otherwise go unnoticed. In some cases, OSPInsight helped him find areas where network redundancy didn't exist where it was supposed to based on his understanding of the current circuit design.
Having a digital mapping capability allowed Scott to proactively address and mitigate network issues. Now, CTS Telecom's customers are less likely to lose service when network issues arise. And when they do, Scott's team is better equipped to address problems quickly.
"We're winning on so many different spots other than just knowing where our fiber is. [OSPInsight has] really advanced our cause here because we are able to use it in so many different ways."