DayStarr Communications
Scaling FTTH management made easier with OSPInsight
DayStarr Communications is an Owosso, Michigan-based provider of internet, TV, and phone services. Over the last two and a half years, Jared Jackson (Construction Manager) and Eric Nichols (Fiber Splicer) have used OSPInsight to deliver excellent fiber-to-the-home (FTTH) services for 3,000 subscribers across two counties.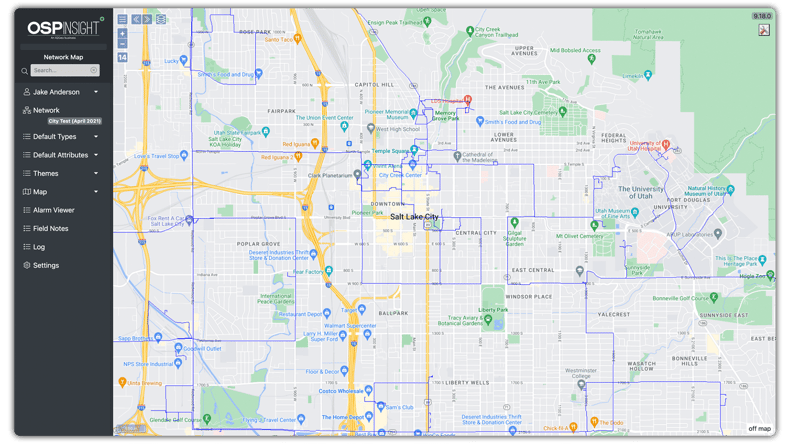 Streamlined record-keeping
Organized record-keeping is essential for modern fiber operators, especially those with growing networks. Since its founding in 2001, DayStarr Communications has expanded its subscriber base significantly on both the commercial and residential sides.
Before OSPInsight, DayStarr kept track of all fiber records with Microsoft Word. Technicians created individual documents for every case and route. Obviously, this made many network-related tasks cumbersome to execute, as field workers had to reference multiple printouts for any project.
"We had each case and fiber route in its own word document. That was huge a pain."
The Microsoft Word-based record-keeping approach worked initially when DayStarr only had 30 splice points and a few miles of cable. However, as the network grew, it became harder to maintain a single source of truth and reconcile differences between static records and real-world circuits.
Today, DayStarr has 600 splice points and 300 miles of cable. Staying on top of an always-evolving FTTH network with Word documents would have been impossible. Fortunately, the company has switched over to OSPInsight, a fiber management platform capable of storing all network data in one place.
OSPInsight allows operators to streamline record-keeping with a sophisticated software solution that can be accessed from anywhere. Jared, Eric, and other DayStarr teammates can now see all critical information about existing FTTH network infrastructure without having to flip through binders of printouts.
Any changes or updates to networks can be recorded instantly in OSPInsight, and editing existing records is easier than ever. As a result, Jared and Eric have a much better understanding of what is happening across DayStarr's network, enabling them to effectively plan for new subscribers and address issues as they arise.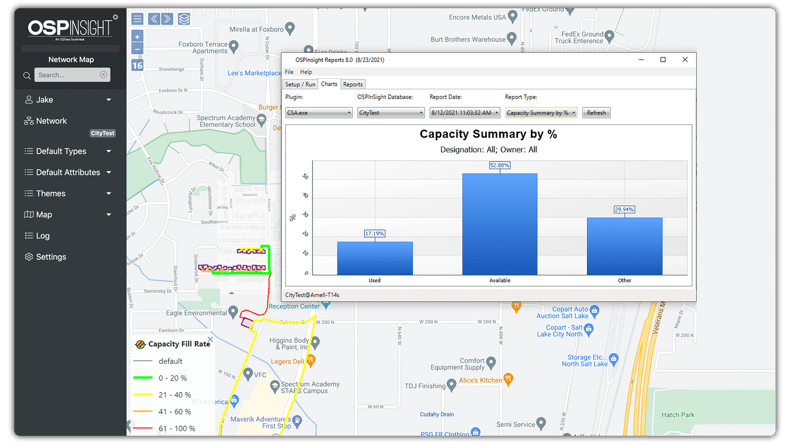 The Capacity Report provides a real-time view of utilization across all cables within a network.
Day-to-day management
DayStarr's legacy record-keeping process created operational bottlenecks for people in both the office and the field. When combined with the reality that DayStarr adds new customers to its FTTH network every day, it's clear why inefficiencies would crop up in all lanes.
Recording new splices, cables, customers, route assignments, and more, took more time and capacity than necessary away from more important responsibilities.
Fortunately, OSPInsight was designed by fiber engineers who intimately understand the day-to-day needs of network operators. The solution is designed to help leaders optimize network performance in the most efficient manner possible.
OSPInsight can be accessed by DayStarr technicians no matter where they are in the field. Assigning fibers and analyzing capacity no longer requires calls back to the central office, as individuals can make changes remotely.
In the past, planning splices took much longer given that technicians had to pull records for multiple routes. The OSPInsight Splice Pro feature gives users a simple interface through which they can plan splices and assess how they would impact the broader network in a risk-free manner.
"Our favorite feature is the Splice Pro - the color-coding, the splices, and the lines that connect it - it really brings those splice cases to life."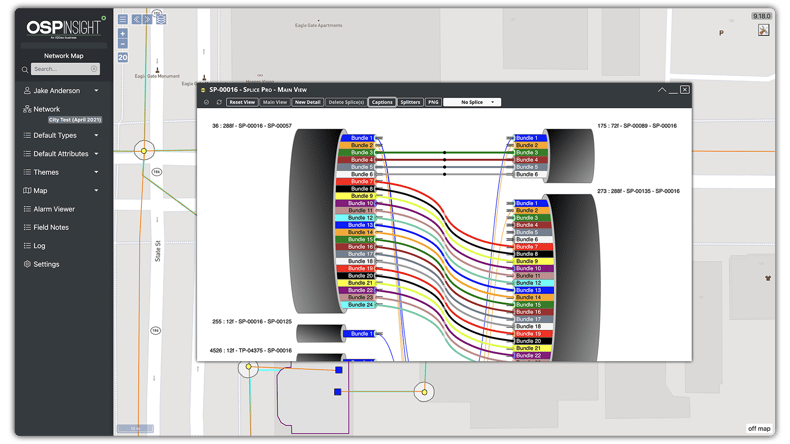 The Splice Pro tool provides everything needed to splice and record quickly based on existing network connections.
OSPInsight is highly configurable, thus enabling users to customize the platform to their needs. Operators can categorize, color code, and label network data however they choose. Eric can quickly reference how different ports are utilized throughout the network and see which subscribers belong to which routes.
The DayStarr team can also save routes, highlight top-priority cables, and flag assets to improve troubleshooting. When users click on a route in OSPInsight, the entire circuit is highlighted, which helps operators visualize network segments in relation to actual geographic elements. Overall, completing minor, daily fiber management tasks is easier now than ever before.
Rapid decision-making
Beyond daily fiber management, network operators also must be able to make decisions confidently about how to invest in their infrastructure. Otherwise, they can't meet future demand or spend capital effectively.
With OSPInsight, the DayStarr team now has a platform and database that they can fully trust to make major decisions about network growth. Jared and Eric can assess current-state network characteristics at any time, knowing that they are referencing the latest intel from the field.
In OSPInsight, users can record which businesses are currently leasing fibers and how cables are allocated to residential subscribers. They can reference tools, like the Taper Report, to check how individual strands are assigned and where open capacity exists. A process that used to take hours now takes minutes, which is important when responding to RFPs or other growth opportunities.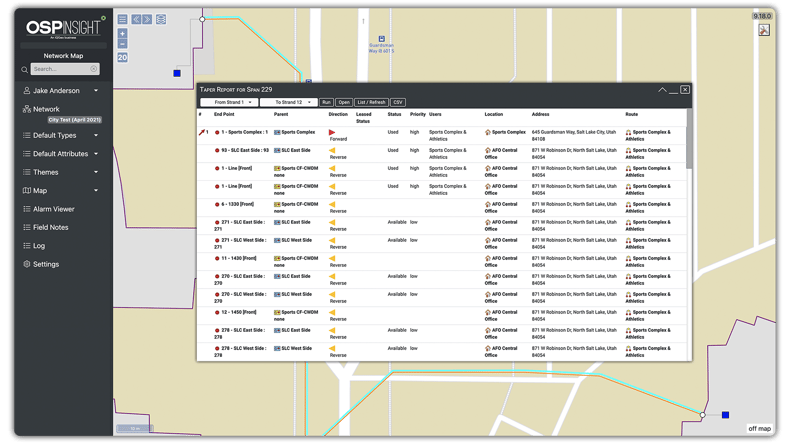 The Taper Report provides information about every fiber across networks.
OSPInsight also includes resources that support reporting and tax obligations. For example, the Route Lengths Report can calculate the length of each fiber on a per geographic segment basis with a few clicks, thus simplifying accounting efforts significantly.
As the fiber landscape becomes more competitive, having a software-based platform that serves as both a single source of truth and a decision-making tool is highly valuable. DayStarr Communications is well-positioned to expand strategically and serve customers well over the long term.