GCI
OSPInsight helps GCI provide reliable fiber services to remote Alaska communities
For more than 20 years, GCI, an Alaska-based provider of telecommunication services, has used OSPInsight software to manage circuits in remote communities throughout the state.
GCI OSP fiber design engineer, Alex Slavens initially used the platform to document splicing records. Today he uses it for other functions, including network management, business development, analytics and engineering.


Enhanced network visibility
GCI technicians used to enter, manage and update records manually. Now they use OSPInsight to do this in real-time, giving them a more accurate tool to track fiber assignments and splices.
Alex and his team use OSPInsight software, tools and reports to provide up-to-the-minute data on how the company's fiber networks are performing.
"Validating and ensuring you are working on the correct circuit is critical, OSPInsight helps us do that work more accurately."
For example, technicians use OSPInsight Taper Report to view individual strands and splitters. They save specific routes, query network data and conduct searches based on custom labels, such as building names and addresses.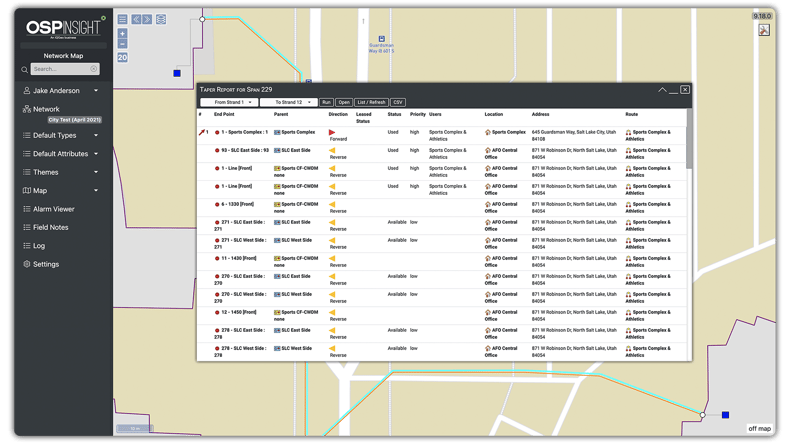 The Taper Report provides utilization for all existing cable
GCI is leveraging OSPInsight for complete network performance visibility and empowers technicians with insightful, easy-to-understand reports.

Priority-based Troubleshooting
Maintaining fiber networks successfully not only includes mitigating problems but also addressing them efficiently as they arise.
GCI wanted to reduce repair time and enable technicians to more effectively prioritize fixes.
"Timely accurate records provided by OSPInsight help us stay on top of our high-valued circuits."
GCI engineers use OSPInsight to repair and replace damaged cables, and avoid other problems during the process. Using the software in the field helps them prioritize the circuits they activate in order of importance.
The Network Services team uses the Find Fault tool during outages to pinpoint cable break locations. Alex's team can also diagnose and efficiently plan fixes so field technicians are ready to repair once they arrive on-site.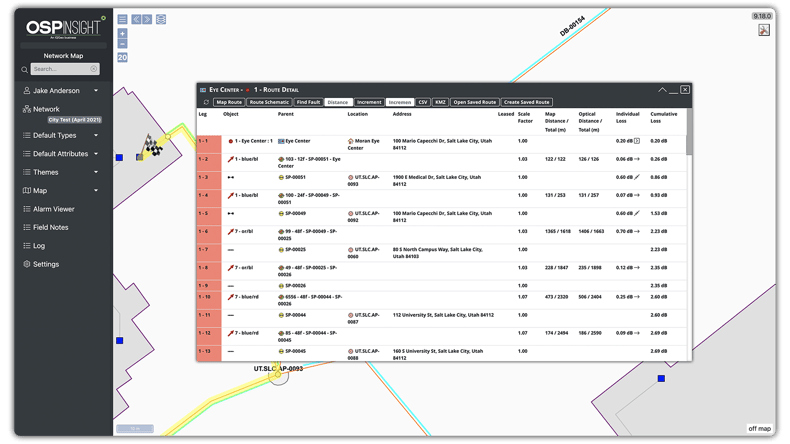 The Find Fault tool helps technicians quickly identify cable breaks.
GCI also uses OSPInsight to help minimize downtime and provide excellent customer support to clients throughout Alaska.
Strategic Growth
OSPInsight software helps GCI accelerate business development and network expansion. As Alaska's largest telecommunications provider, GCI is maximizing its growth capabilities to stay on top.
The telecommunication provider was looking for a tool that would help them more quickly assess capacity and identify potential routes for new subscribers.
GCI uses OSPInsight's visualization tools to evaluate market opportunities. For example, Alex uses OSPInsights Taper Report to build a new circuit; searches for open capacity across existing networks, and reviews utilization for any individual dark strand. He also accesses the Route Search function to validate potential service pathways.
Alex ensures GCI is deploying new cables in the most efficient manner possible. Because OSPInsight integrates with most leading GIS platforms, users can accurately apply geospatial analyses and estimate deployment costs.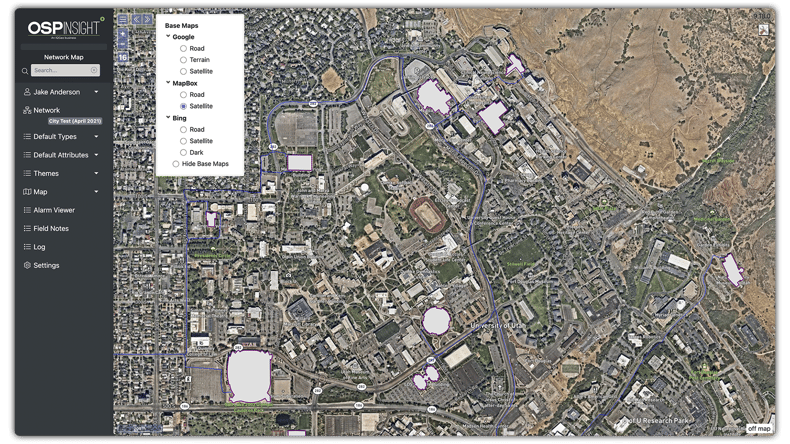 OSPInsight integrates seamlessly with GIS solutions, enabling users to overlay network data on real-world displays.
Compared to other solutions in the market, OSPInsight's robust platform offers significantly more functionality and insight, which is crucial for leading providers, like GCI. Alex and his team can expand responsibly without disrupting services for existing clients. Looking ahead, GCI has what it needs to maintain its reputation and evolve over the long term.
"Other fiber management software doesn't hold a candle to OSPInsight."