Involta
Leveraging OSPInsight for organized documentation, efficient troubleshooting, and business development.
Justin Halloran and Adam Meloy both work at Involta, an Iowa-based IT services provider that works with organizations across several industries. Justin is an Administrator on Involta's Carrier Services team, which provides support to existing fiber customers. Adam is an OSP Specialist and works on the planning side with new clients to schedule installations and turn on circuits.
Justin and Adam use OSPInsight in different ways to provide Involta's clients with real-time fiber network management services.


Single source of documentation truth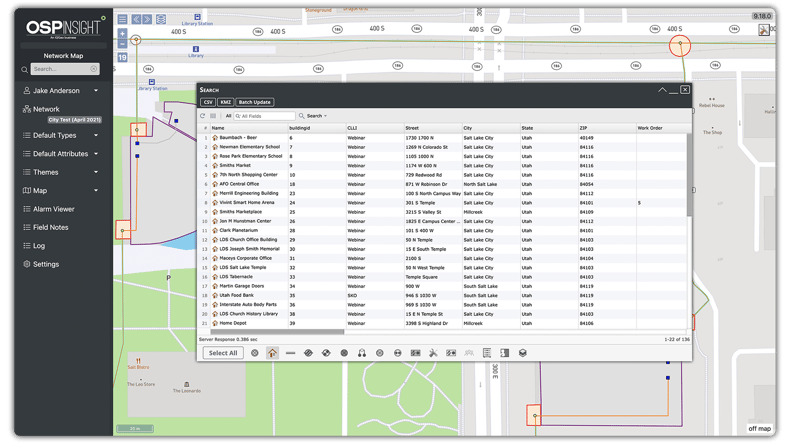 OSPInsight allows you to customize the platform to your organization's unique documentation needs
Like many internet service providers, Involta originally documented everything about its fiber networks by hand. Engineers had to revise route maps and spreadsheets manually, leaving room for errors.
Without a centralized platform to organize data, it was up to Involta's field techs and engineers to keep all information about network components, fiber routes, and splices updated. Staying on top of network data changes was impossible. They couldn't rely on their data over time and personnel had no one place they could reference to get up-to-date information.
Fiber network operators know how challenging this is, especially when you manage multiple networks across different geographies. Over the last year, Justin and the Carrier Services team have turned to OSPInsight to help transform Involta's network documentation processes. Now, his team leans on the platform's capabilities to store and maintain network data for every client.
With OSPInsight, Involta field techs have a single source of truth that accurately represents the current state of any network. Recording changes is much easier as engineers don't have to redraw maps or edit spreadsheets manually. Instead, they can make updates in OSPInsight, which is accessible to anyone in the organization with the appropriate permissions. Although Justin and team are still in the process of inputting network data, they already recognize how much easier it will be to document going forward.
OSPInsight makes it much easier for operators to understand the current state of their networks. For example, OSPInsight's Route Detail tool shows connectivity information for every individual fiber in the network, including termination ports, patches, and slicing. Using the Splice Pro tool, field techs can evaluate how fibers are connected in any cabinet without having to go out into the field. Beyond these tools, OSPInsight has many others that simplify documentation dramatically.
For a company like Involta that operates networks at scale in many industries, it's incredibly helpful to have a systematic and easy-to-manage solution for documentation.
"[OSPInsight] is fully customized so you can do literally everything you want to do."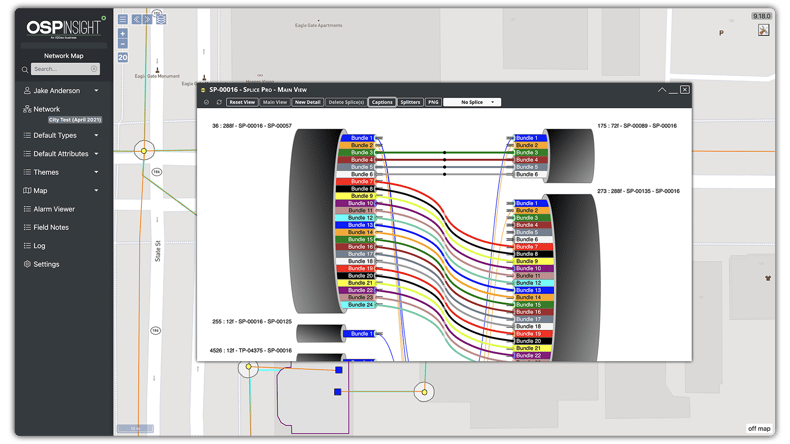 The Splice Pro tool gives OSPInsight users a visual representation of cable connectivity at a specific location.


Efficient troubleshooting
Adam has already seen how OSPInsight helps troubleshoot network issues quickly and efficiently. Recently, one of Involta's clients had a fiber go dark.
In the past, an Involta field tech would have pulled information about the cable in question and guessed where the break might be based on which end users lost connectivity. Then, the tech would have had to travel the cable route, investigating possible breaks along the way. Obviously, this troubleshooting approach is extremely inefficient.
With OSPInsight, Involta's downed fiber was no problem. Adam's team plugged an OTDR reading into OSPInsight's Find Fault tool and pinpointed the location of the issue within minutes. The field tech was able to go straight to the source and get end users up and running quickly. In today's competitive landscape, this level of customer service is essential.
"You don't have to drive the whole route...you can go directly to the location."
Beyond day-to-day troubleshooting, OSPInsight also makes it easy for users to visualize their entire networks and identify vulnerabilities. Fiber operators can see where they have redundancies and set connectivity priorities in case cables go down.
"The software gives you a great idea of where everything is physically."
Overall, OSPInsight completely transforms fiber network troubleshooting and empowers operators to take much better care of their end users. Involta is now able to address issues as they arise and keep customers satisfied.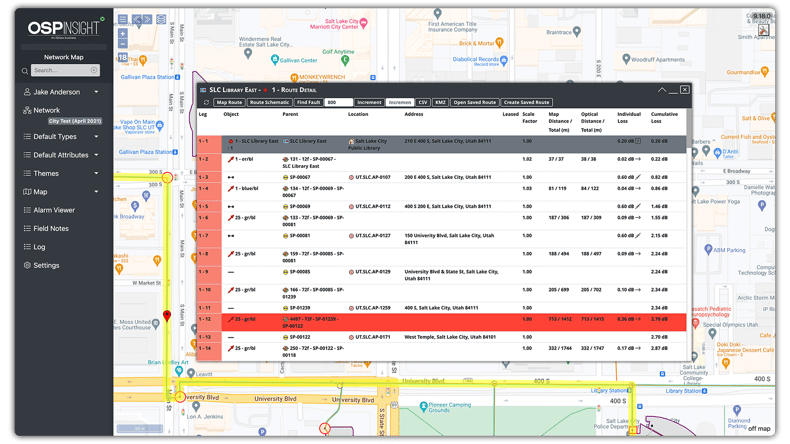 The Find Fault tool allows field techs to plug in OTDR readings and hone in on the exact location of cable breaks.


Business development support
Looking ahead, Justin and Adam envision using OSPInsight to support Involta's business development efforts.
Fortunately, the platform enables users to design new routes, estimate costs, explore potential opportunities, and much more. Sales teams can bid on new developments quickly using the most up-to-date information on material and labor costs.
We learned from Adam that Involta often orders circuits on behalf of its clients. With OSPInsight, his team could conveniently create and share bills of materials. Additionally, using features like OSPInsight's Capacity Report, Involta operators can assess what availability they have in existing networks to light up new customers without having to install additional cable.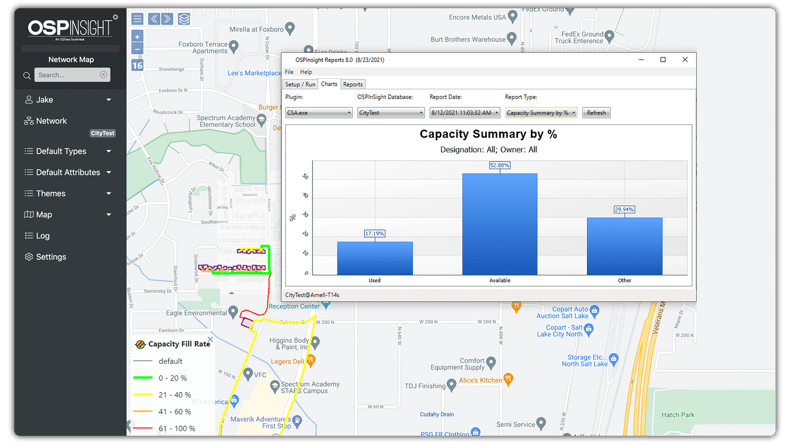 With the Capacity Report, OSPInsight users can see where they have availability in their networks down to the individual fibers.
In the future, OSPInsight will also integrate seamlessly with leading enterprise applications, like Salesforce and ServiceNow. Operators will be able to integrate their fiber management databases directly with their CRMs.
As a result, sales and network operations will be more closely linked, enabling companies, like Involta, to expand more strategically.