PSLightwave
Onboarding new clients and managing fiber networks the right way with OSPInsight
PSLightwave is a Houston-based provider of internet, ethernet circuits, and fiber network services. The company has been using OSPInsight for over 30 years to design fiber routes, troubleshoot outages, and maintain the integrity of its networks.
Dede Davis and Greg Smith both work within the Operations Department. Dede is a fiber optic network designer on the OSP team, and Greg is the Director of Internal Operations.
They each use OSPInsight in different ways to provide exceptional services to customers and ensure there is a seamless collaboration between operators and field technicians.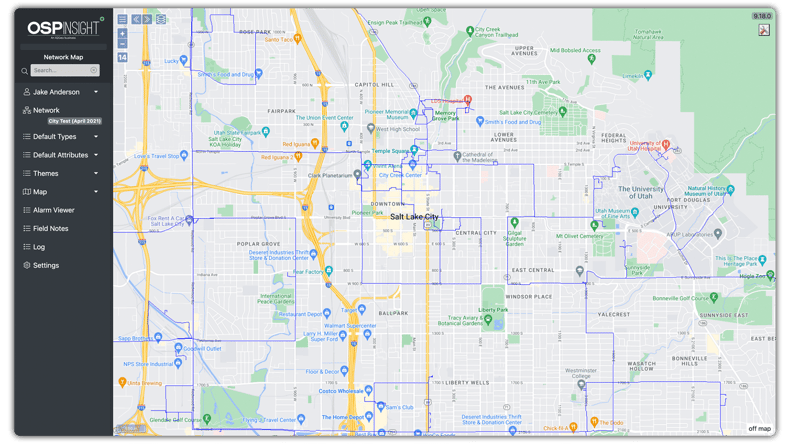 Onboarding new customers
There are many factors to consider when onboarding clients to existing fiber networks.
First, designers must ensure that they have available capacity. They need to be able to see if and where they have open fibers near new customers.
Additionally, fiber route designers must be able to easily identify the most efficient path to get clients connected to the existing network. In some cases, this may require installing new equipment or components that can support the bandwidth requirements for new accounts.
Before PSLightwave used OSPInsight, Dede didn't have the tools to fulfill these needs adequately. She remembers drawing new routes on cardboard boxes! Sometimes, field technicians would even mock up design suggestions on objects that they found in the field.
Today, Dede relies heavily on OSPInsight to design new routes and plan how clients will connect to existing infrastructure. She chooses the fiber, the frames, the slack loops, and more, and then determine how clients will achieve connectivity back to the hub. Dede also decides the best installation method for the new cable (underground vs. aerial).
With OSPInsight's Taper Report, Dede has all of the information she needs about what capacity and availability exists across PSLightwave's networks. The Taper Report provides information, such as end ports, locations, priorities, and end users, down to the individual fiber. As a result, she can proactively plan splices and choose which cables to use.
"I have to run a Taper Report on every cable to see our availability and how we're going to splice."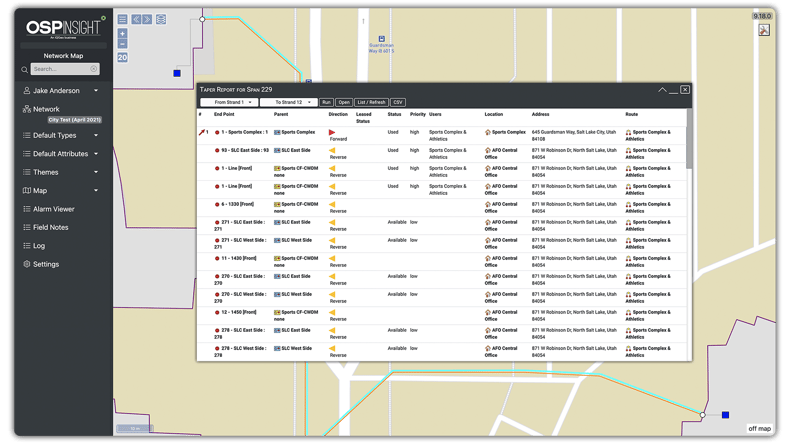 The Taper Report provides a comprehensive view of essential fiber data, down to the individual strand
Troubleshooting outages
When it comes to managing fiber networks, effective troubleshooting is crucial. Addressing outages, cuts, and tear downs are challenging without a way to identify where issues are occurring, as well as how to reroute affected customers appropriately.
Without software, like OSPInsight, field technicians have to travel along downed routes and visually inspect cables to see what might be causing connectivity issues. For obvious reasons, this is time-consuming and burdensome.
Today, when PSLightwave's field technicians are troubleshooting outages, they use OSPInsight's Route Detail tool to create point-to-point solutions. The Route Detail report highlights a plethora of useful fiber connectivity information, such as termination ports, fiber strands, splicing, and patches.
PSLightwave field technicians can check for continuity according to the data in the Route Detail report and ensure they have the right distances to outages from termination points. They don't have to spend hours in the field looking for network problems. Instead, they can use software to pinpoint issue sources across entire networks.
Overall, Greg's team can respond to outages much more efficiently and get customers back online as soon as possible.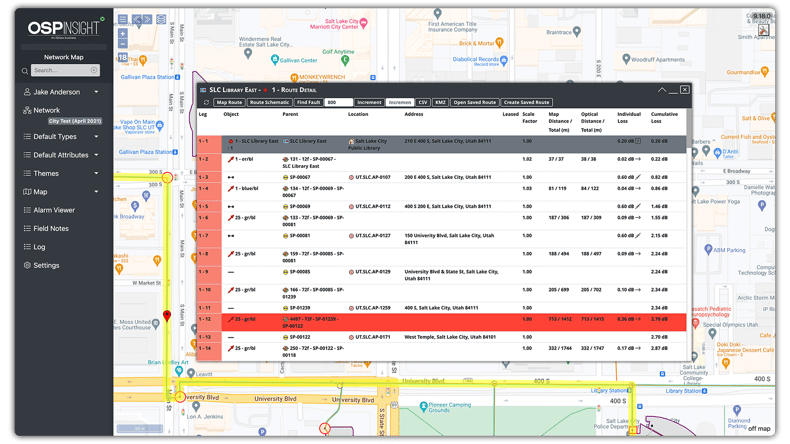 Use OSPInsight's Route Detail tool to provide connectivity information for every fiber route.
Documenting network elements
Keeping track of all network elements is difficult and time-consuming without the right tools. Fiber networks evolve rapidly, which means operators must be able to track changes as they occur. Otherwise, they can lose track of what exists in the field, thus creating a disconnect between operators and field workers.
Greg was supporting fiber network deployments before PSLightwave used OSPInsight. He remembers having to use AutoCAD to put together critical network documentation. Splice sheets and other types of fiber records were printouts that had to be stored in a binder.
As PSLightwave grew, it quickly became too cumbersome to manage fiber documentation in this way. Recordkeeping turned into a bottleneck for the organization, and operators couldn't find what they needed without sifting through every piece of documentation.
"There was no way to query data. It was just a schematic in AutoCAD."
OSPInsight's fiber network management platform simplified this process dramatically. Greg and his team were able to create visual representations of PSLightwave networks with OSPInsight's mapping capabilities. They could store all important data related to physical assets and didn't have to worry about creating splice sheets manually.
"You can put whatever information you need in OSPInsight. You can also add to it, create user-defined fields that you can change...we like how easy it is to do things like that."
All switches, panels, poles, and endpoints are now stored in OSPInsight. As a result, evaluating fiber connectivity between endpoints and switches is easy.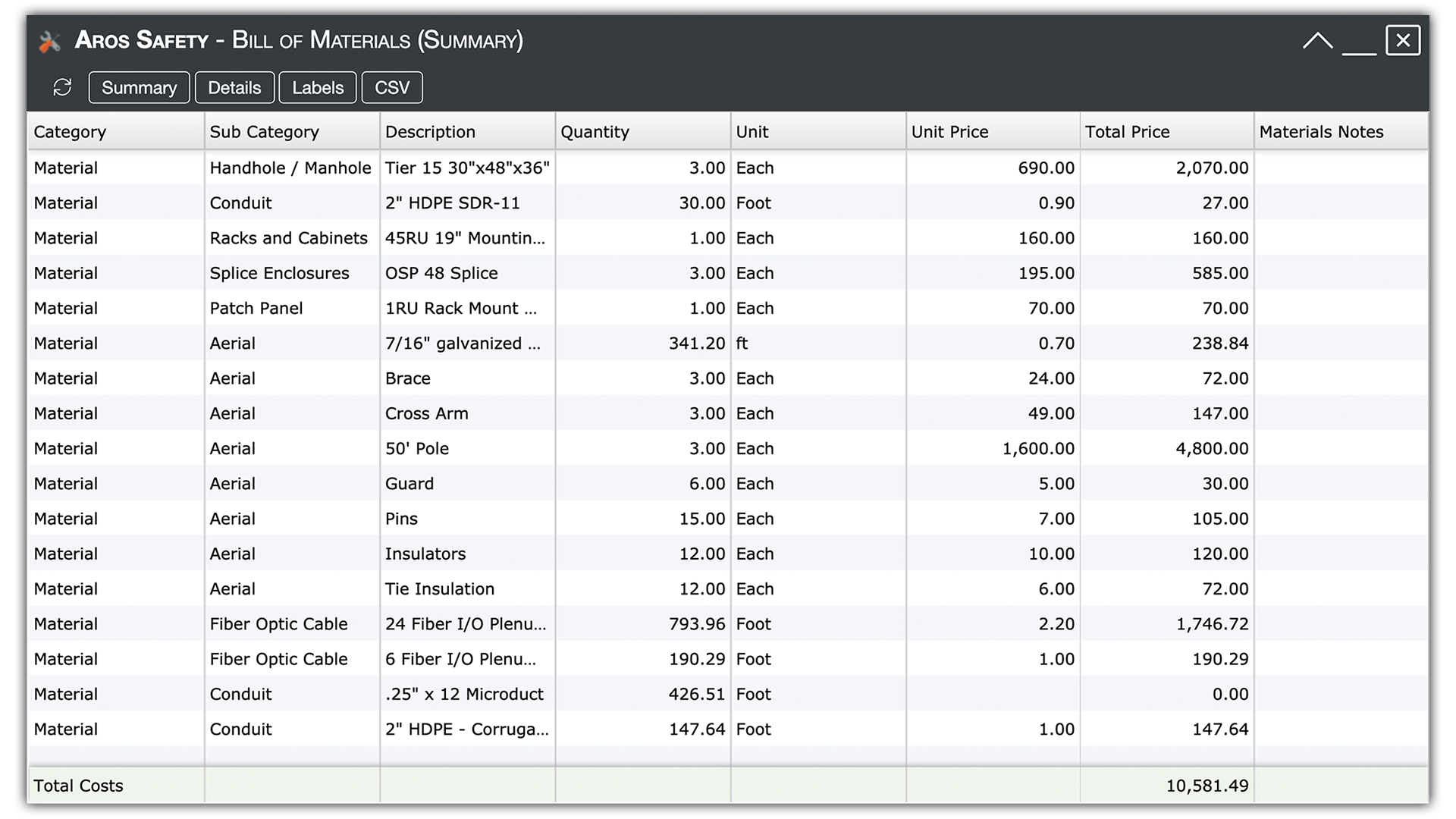 The Machine & Hardware report gives operators a snapshot of all of the physical infrastructure used in their networks.
In addition to using the Taper Report and Route Detail report, Greg's team also relies on the Materials & Hardware report to keep up with all of PSLightwave's network components. The company's operators can track metrics, like total fiber miles, as networks expand, which is valuable for tax purposes.
Today, the PSLightwave team has exactly what it needs to provide excellent fiber services to clients throughout the Houston area.
"We use OSP for everything. I would just go home if my OSP wasn't working one day."