SECOM
Utilizing OSPInsight for reliable documentation, simple record-keeping, field support, and accessible data.
Rich Modica is an Outside Plant Engineer for SECOM, a telecommunications subsidiary of the Southeast Colorado Power Association (SECPA). The company has been using OSPInsight for seven years. In that time, Rich and his team have used OSPInsight's suite of tools and reports to provide SECOM's clients with exceptional high-speed internet and telephone services.


Reliable & Secure Documentation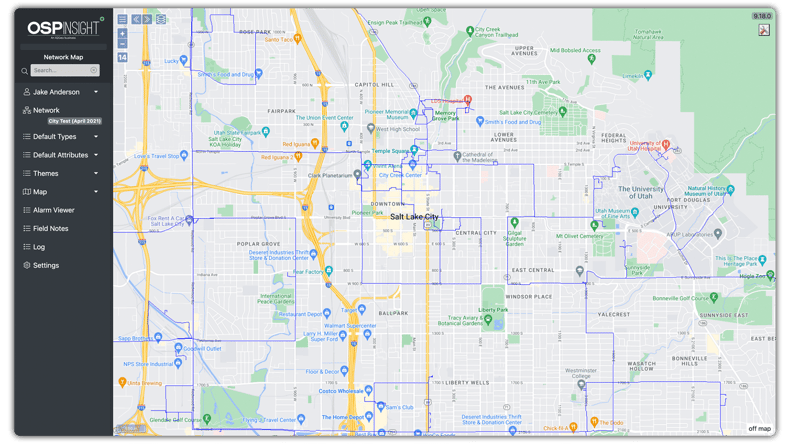 OSPInsight provides an accurate visual representation of your network with whichever geographic elements you wish to see.
When Rich first started at SECOM, he attended meetings in which managers and foremen would use whiteboards to draw fiber routes and describe how cables made it from Point A to Point B. There were no maps or processes in place for documenting fiber circuits. Instead, all knowledge existed in the minds of a few SECOM teammates.
Although human memory had worked in the past, Rich pointed out how vulnerable the company was to losing map-oriented fiber records. By concentrating all knowledge with a few people, SECOM carried unnecessary risks before moving to a software-based application.
OSPInsight gave SECOM a reliable and secure place where the company's knowledge-keepers could deposit their intel for others to use. Rather than having to gather people in one place to disseminate information about routes and circuits, SECOM could now lean on a software-based platform to disseminate knowledge virtually.
OSPInsight makes it easy to build geographically accurate representations of fiber networks. Users can create digital visualizations with custom labels and features so that others can see exactly how routes are laid. They can also take advantage of GIS applications that integrate with OSPInsight and add different types of data layers on top of network diagrams.
Now, SECOM can rest assured that its network maps and documentation will live on, regardless of what happens to certain individuals. Should a few key people leave the company, new hires would have no problem getting up to speed and learning about every network the company manages.


Simple recordkeeping & field support
In addition to providing secure documentation, OSPInsight also makes it very easy for users to update records in real-time.
When Rich first joined SECOM, engineers and technicians relied on labor-intensive excel spreadsheets to maintain all splicing information. Rather than proactively record splices as they occurred, engineers updated information on the back end, which didn't always happen. As a result, some splices wouldn't get recorded, forcing technicians to go out into the field to physically check splices before new projects could begin. They would essentially have to "chase light" until they could understand which fibers were being used and how.
"Without OSPInsight, there's no way I could collect all that data. I can't even look at it. I wouldn't be able to see a path. I wouldn't be able to see loss and distance...we'd be guessing."
With OSPInsight, Rich's team can now keep up with changes in the field and also give technicians everything they need to perform their jobs successfully. Rich is able to export various reports and documents that reflect the current state of the network, including splice charts, route maps, and bills of materials.
"Our network is a living, breathing thing. It changes constantly."
On the materials side, OSPInsight makes it easy for engineers to order the exact quantities of the equipment or components they need. The SECOM team has even used OSPInsight to generate work orders for FTTH developments. Rich's team recently built out FTTH networks for three smaller towns in Colorado, thanks to OSPInsight's capabilities.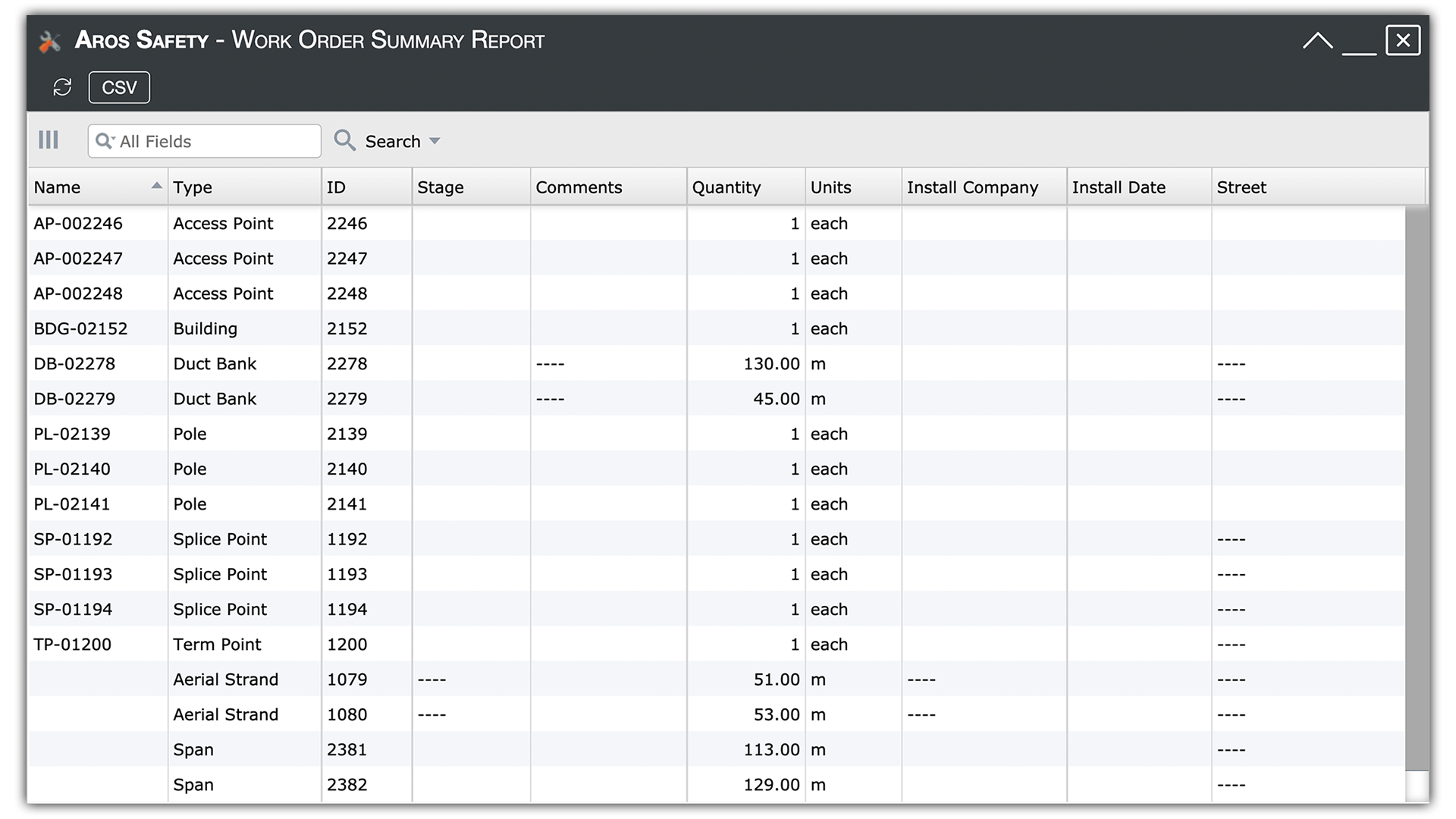 OSPInsight enables users to build and print work orders directly within the application.


Accessible Data
Although SECOM's fiber networks are located in southeast Colorado, Rich works remotely 200 miles away in Denver. He relies heavily on OSPInsight to evaluate network performance and study how fibers are performing on a daily basis.
Using tools like OSPInsight's Taper Report, Rich's team can see every data point related to every individual fiber. SECOM's network engineers can easily determine fiber availability and build loss budgets as needed. They can also test new splices in OSPInsight's Splice Pro application rather than having to make those changes onsite.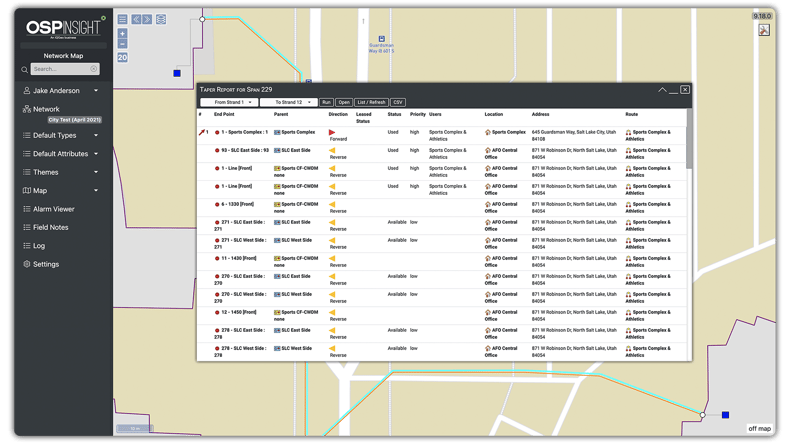 OSPInsight's Taper Report gives a plethora of information about each individual fiber.
By having universal access to network data, SECOM technicians are empowered to troubleshoot network issues quickly or make other substantial changes without disrupting current subscribers. For example, they can perform midnight cuts with complete confidence that no incorrect fibers will be affected. Additionally, Rich can see where SECOM has the capacity and plan out splices in advance before making any changes in the field.
"We can tell you everything you wanted to know about that fiber, everything it touched, every pole, every manhole, every splice case..."
Even in the fiber network management space, knowledge is everything. By being able to store, record, and access data from anywhere at any time, SECOM is able to provide the highest quality services to its clients and end users.